Thanks for an Amazing Year!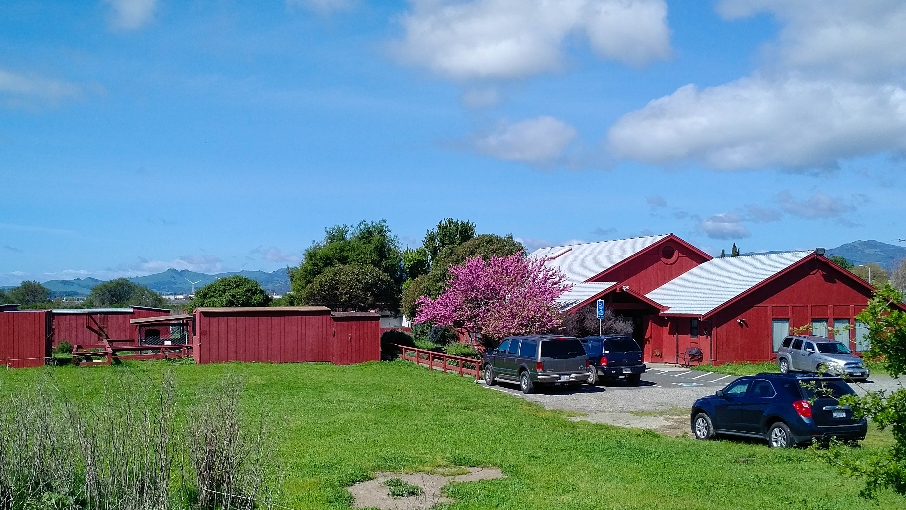 It can truly be said that a non-profit organization exists because of "the kindness of strangers". What makes what we do so special is that those strangers become friends. Over many years we have come to see the Wildlife Center as a microcosm of the American macrocosm, a melting pot where all kinds of people can come together in service to a greater goal.
Our members and donors are a huge and vital part of the Wildlife Center's success! Those of us who work with the membership come to know the names, and in many cases, the faces and lives of our members, who become personally involved with what we do.
Though we have received more kindnesses over the years than we can remember, 2017 stands out as being filled with remarkable gifts. February 18th began this amazing year with our 40/30 Celebration of 40 years serving Solano County, 30 of them in our home of Suisun City. Through the generosity of our sponsor, Garton Tractor Inc. of Fairfield, we offered our guests and volunteers a delicious barbecue and commemorative T-shirts. Many of the guests who joined us that day were long time supporters and friends, and we made some new ones. Assemblyman Jim Frazier sent his aide, Aerial Silva, to present to us a California Legislature Assembly Certificate of Recognition. We thank the Congressman, Aerial, Garton Tractor, and our 200 guests for helping to make it such a memorable day!
We were thrilled to be asked by our friends at Turkovich Family Wines to participate for the second time in February in "Wild at Heart", their Valentine's Day event. As always, our education critters were a big hit with the guests, and the raffle and donations for the Center were a great success. Our thanks to Tracy Rios and Turkovich Family Wines for their continued support.
Students also continued to contribute, with coin drives taking place at Sierra Vista Elementary and Browns Valley Elementary in Vacaville, Nelda Mundy Elementary in Fairfield, and our friends of many years at Dan O. Root in Suisun City. These outstanding students, supported by their teachers, principals, and parents, give us an enormous amount of help caring for wildlife, and we really enjoy visiting them to celebrate their donations.
In April we received the tremendous honor of being chosen for a 2016 John Muir Association Conservation Award. The 2016 John Muir Association Nonprofit Conservation Award was presented to the Suisun Marsh Natural History Association and its Suisun Wildlife Center on Saturday April 22 during the Earth Day Celebration at the John Muir Historic Site in Martinez. We were delighted and grateful for this generous recognition of our 40 years of wildlife rescue.
Another terrific occasion took place May 28, when the Suisun Wildlife Center 2017 Charity Event disc golf tournament was hosted by Lagoon Valley Disc Golf Club. This event was organized by Jordan Moirano, and proceeds benefited the Center. There were 60+ participants on a beautiful Sunday in May, enjoying the course and the competition. Sponsored by Innova Disc, the event was a wonderful surprise for us and a great benefit – thank you, Jordan.
The surprises continued when Center Director Kris Reiger was visited in June by three young ladies representing an organization called "Walk Pets 4 Pets." Although their fundraiser was primarily in support of domestic pets, they very kindly included the Wildlife Center among the groups receiving donations. Thanks to Caroline Chouinard and the group!
Grace Episcopal Church continued their assistance through a donation collected by the church members. This congregation truly exemplifies generosity and the giving spirit through the help they provide not just to us but to other groups. We thank them for their donation and inspiring example.
And now and then someone just blows us away by doing something so unbelievable we're left speechless. Shift Supervisor Lana Wise was certainly speechless when Alexander Silva arrived at the Wildlife Center in July with two friends and a truck and trailer full of all the supplies you could possibly name, everything on our Wish List, and lots of it! This incredible generosity was stunning, but Alexander's story gets even better.
It started with Alex helping wildlife by bringing a baby hummingbird in for care. Without this effort from concerned members of the public, we would not receive many of the birds and animals we care for and release back to the wild. But Alexander didn't stop there, he decided to extend his help with these wonderful supplies. Every item like this that is donated helps us stretch our very limited budget and keeps us going, and we are very grateful. A heartfelt thank you to Alex – young people can save the world!
In August we had the great pleasure of again receiving a donation supporting our work from the Straits of Mare Island Rowing Association. This wonderful group, itself a non-profit, has a charity row each year to support other local non-profits, and we are honored by their recognition of our work and their generous assistance. Those of us who attended the barbecue where the donations were presented also enjoyed the delicious food created by their terrific volunteer chefs, our thanks to them. Meeting the super folks that belong to this amazing club is an added benefit – thanks to you all!
We are overwhelmed by the kindness and generosity of Californians during the recent fires, and very grateful for the outpouring of help we have received. We have been sent medical supplies by Kathy Rogers, a wildlife rehabber in Texas, and received them from Hilary Wheeler, a veterinarian from Los Gatos, along with a donation. El Sobrante Feed and Pet Supply brought us finch seed and dove/quail seed, and Cynthia Evans from Pacifica and many other friends brought in lots of supplies and food for the animals.
Our volunteers send thanks to Joyce, Linda, and all our friends at Virgil's Bait Shop, who sent snacks, drinks, masks, and lots of other great things for them – they are happy! Many of you have also made financial contributions to help with animal care and the loss of our Halloween Howl fundraiser, and we appreciate that immensely - with our small budget, it is a huge help. See our breaking news about PAWS and their donation on pg 3!
Another area in which we have been extraordinarily lucky this year is with our volunteers. Some of you may not be aware that almost everyone you see at the Wildlife Center is a volunteer, generously giving of their time and hearts. Without our amazing, top-notch team it would be literally impossible for the Center to function, and they are the Wildlife Center family. "Volunteers are not paid, not because they are worthless, but because they are priceless." We can certainly attest to that!
This brings us back to where we began, with our incredible, compassionate members. You are the other indispensible part that allows us to continue to strive to do more and do it better all the time. You inspire all of us by showing your faith that we will honor the trust you give us, and it was abundantly shown this year – thank you all.
Our thanks to everyone that honored us this year with your good wishes and support! We are tremendously grateful for all of you – for your generous impulse of heart that makes you care about wildlife and support us in helping them. We could not do what we do without you, and for that we cannot thank you enough!
Back to SMNHA Homepage