Grizzly Island Wildlife Area
---
Grizzly Island Wildlife Area is located in the heart if the great Suisun Marsh, approximately ten miles southeast of the City of Fairfield in Solano County, California.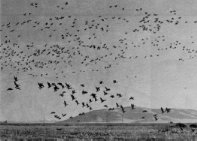 It comprises 10,487 acres in two units located about four miles apart and is owned by the State of California and managed by the Department of Fish and Game,, The 1,887-acre Joice Island section was acquired with Department of Fish and Game funds in 1931; the larger 8,600-acre Grizzly Island section was purchased in 1950 by the Wildlife Conservation Board.
Primary objectives of this wildlife area are to maintain and enhance the habitat for fish and wildlife, to alleviate crop depredation by waterfowl, and to provide public recreation.
Suisun Marsh is the largest remaining contiguous area of coastal wetland in California. Located entirely within Solano County, it contains 54,000 acres of marsh and upland areas plus an additional 30,000 acres of waterways. In winter, it is an important feeding and resting station for waterfowl traveling the Pacific Flyway and it may harbor a population of as many as 1,500,000 ducks and geese.
In addition to the migratory population, Suisun Marsh supports a substantial population of resident waterfowl and shorebirds and three heron rookeries of great blue herons and greater egrets. Nine species of raptors including the uncommon whitetailed kite are also found in good numbers in this marsh depending on quantity of available food. At least 220 distinct bird species, including 25 waterfowl species, have been identified in Suisun Marsh. There are 21 identified species of mammals (not counting bats). These include river otter, beaver, mink, muskrat, jackrabbit, striped skunk, raccoon, the Suisun shrew, and the endangered salt marsh harvest mouse.
Fishlife found in the waters of the marsh include striped bass, catfish, crappie, sturgeon and an occasional steelhead trout.
Some 15 reptile and amphibian species have been identified in the marsh. A list of the more common birds, mammals, reptiles and amphibians of the marsh is included in the Department's publication 'Wildlife of Suisun Marsh' which can be obtained by writing or calling:
Department of Fish and Game
Region 3 Headquarters
Post Office Box 47
Yountville, California 94599
707-944-5500

---
The major floral components of the Suisun Marsh include both salt and freshwater forms common to Pacific Coast marshes. At least 182 species have been identified. and they provide major vegetative cover in approximately the following ratio: 62 percent marshland, 30 percent cropland. 6 percent grassland, 1 percent shrub thickets and 45 individual groves of eucalyptus trees.
The topography of the Grizzly Island Unit is generally flat. with elevations ranging from 8 feet above to 3 feet below sea level.
The Department's primary development activities at Grizzly and Joice Islands consist of construction and maintenance of levees and water controls necessary to provide optimum conditions for wintering waterfowl. Also involved are land preparation and the planting of approximately 2,400 acres of barley on a rotation basis. The matured grain is left unharvested to be eaten by wintering waterfowl. The construction and maintenance of access bridges, ditches, roadways and buildings; posting and patrolling; and the operation and maintenance of checking stations and trash and sanitary facilities are provided to regulate and enhance public recreational use of the area.
Fishing is permitted year-round on Grizzly Island as is nature photography, sightseeing and similar activities, but certain restrictions are in effect during the hunting seasons. Boats may be launched from a boat ramp on Grizzly Island providing access to Montezuma Slough and Honker Bay.
Waterfowl hunting opportunities are offered for a fee during the fall and winter, normally from mid-October through mid-January.
Limited pheasant hunting is also available on Grizzly and is usually permitted the first nine days of the regular pheasant season; thereafter, only on waterfowl shoot days. However, in some instances, hunting may be allowed on additional non-waterfowl shoot days beyond the first nine days. Prospective hunters should familiarize themselves with the regulations applying at the time they intend to hunt.
Dog training is permitted on Grizzly Island from one week following the close of the waterfowl hunting season (roughly mid January) through February (March 1st officially begins the nesting season), the second period is the entire month of July, and the third period is roughly the last two weeks of September (dependant upon when the elk hunting season ends). Dog training is not permitted on Joice Island.
Access to Joice Island is limited to the by-permit-only fishing program conducted mid May through mid August, waterfowl hunting Sundays only in December, and by special permission by the Department of Fish and Game.
Visitors to Joice and Grizzly Islands are warned to be very careful with matches and cigarettes. No camping or campfires are permitted. Grass fires started here can easily start a fire in the peat soil of the area which is very difficult to control.
For further information, contact the Area Manager:
California Department of Fish and Game
2548 Grizzly Island Rd.
Suisun City, California 94585-9539
telephone (707) 425-3828

---
Natural History Information

SMNHA HomePage

Wildlife Rehabilitation

Environmental Education

---
On Line since 1994
Copyright © 2003 SMNHA
Send Email comments or inquires to: webmaster@suisunwildlife.org
Information subject to change - please call or Email for verification. Last update - (02/06/10)